Annual Survey for Parents
We Want to Hear From You!
Your input matters to us. Please take a few minutes to participate in our Annual Survey for parents. To access the survey, ClICK HERE or visit the District's website, browardschools.com, and click on the Annual Survey icon. The survey takes place from January 5 – January 30, 2015, and is your opportunity to share your opinions and ideas about your child's educational experience at Griffin Elementary.
To access the survey, you will need your child's student ID number and date of birth. If you do not have your child's student ID number (which is printed on school report cards) or if you do not have internet access at home, please call 754 323 5900 and we can assist you.
Thank you in advance for taking the time to participate in this important survey and for partnering with us in your child's education.
Happy New Year!
Hope all our Griffin families had a wonderful break!
We are partnering with Goodsearch and Goodshop as an easy way to raise money for our school and our students.
At Griffin Elementary, we want every student to receive a quality education, and you can help to make this happen! By using Goodshop to reach your favorite retail sites, you will raise funds for our school every time you make a purchase. Goodshop will donate to Griffin Elementary up to 20% of what you spend online; at no cost to you! Enjoy thousands of Goodshop coupons too when purchasing items such as boots from Neiman Marcus, lighting from Pottery Barn, photo books from Shutterfly. Register now, designate Griffin Elementary as your cause, and start saving while helping us to raise funds for our school today!You can make Goodsearch your favorite search engine. For each search you earn 1 cent for Griffin. Please just make sure the cause you are supporting is Griffin Elementary.
We coded did you?
Celebrating Computer Science Education Week!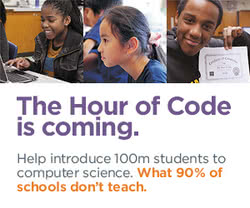 Speak Up Survey
Please participate in this extremely valuable survey. The Speak Up Survey is conducted by Project Tomorrow, a national education nonprofit group that collects and reports on the views of K-12 students, teachers, administrators, and parents on 21st century education and technology. Survey topics this year include blended learning, 1:1 computing, coding, student self-directed learning and more. Broward County has participated in the Speak Up survey in the past and used the data for program planning related to our digital initiatives. The Speak Up online surveys are open for input from October 6 to December 19, 2014.
Access the survey at http://www.speakup4schools.org/speakup2014
All participants will access the survey through their school name. All students will be asked for a "password" to take the survey. The password is broward. Educators and parents will not be asked for a password.
Please sign your Dolphin Camp waiver!
All waivers must be signed by NOVEMBER 4th, Tuesday. Please click the link below to sign your child's waiver. If we do not have a waiver for them, they will not be able to participate. Thanks in advance for your cooperation.
<<
Start
<
Prev
1
2
3
4
Next
>
End
>>
Page 1 of 4