We coded did you?
Celebrating Computer Science Education Week!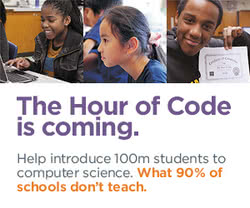 Speak Up Survey
Please participate in this extremely valuable survey. The Speak Up Survey is conducted by Project Tomorrow, a national education nonprofit group that collects and reports on the views of K-12 students, teachers, administrators, and parents on 21st century education and technology. Survey topics this year include blended learning, 1:1 computing, coding, student self-directed learning and more. Broward County has participated in the Speak Up survey in the past and used the data for program planning related to our digital initiatives. The Speak Up online surveys are open for input from October 6 to December 19, 2014.
Access the survey at http://www.speakup4schools.org/speakup2014
All participants will access the survey through their school name. All students will be asked for a "password" to take the survey. The password is broward. Educators and parents will not be asked for a password.
Please sign your Dolphin Camp waiver!
All waivers must be signed by NOVEMBER 4th, Tuesday. Please click the link below to sign your child's waiver. If we do not have a waiver for them, they will not be able to participate. Thanks in advance for your cooperation.
International Walk to School
Broward County
Broward County Public Schools is Florida's first fully accredited school system since 1962!
<<
Start
<
Prev
1
2
3
4
Next
>
End
>>
Page 1 of 4